Section 13 Notice
| | |
| --- | --- |
| | |
| | | | |
| --- | --- | --- | --- |
| | Drafted by a specialist solicitor | | Written in plain English |
| | Complete with Explanation notes | | Together with a completed example |
| | Available for instant download | | Available in multiple formats |
| | Customisable documents | | Saves both time & money |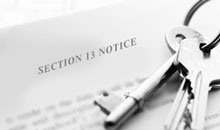 A Section 13(2) Notice is a legal document used by a Landlord in cases where he wishes to enforce his rights under the Housing Act 1988 and increase the rent paid by the Tenant.

This Notice may only be used for an Assured Periodic Tenancy (including an Assured Shorthold Periodic Tenancy) of premises situated in England.

Where there is already a tenancy agreement or other such similar agreement in place which specifically deals with rental increases, this Notice should not be used and the provisions of the agreement must be adhered to. Legal advice should be sought in these instances.
*** Package Savings ***

This document can be found in the following package(s) designed to save you money
-
Complete Landlord Saver Pack
comprises of 13 documents worth £53.87, saving you £33.88
£19.99

The Section 13 Notice is available to download instantly in the following formats:

Microsoft Word document


If you liked this document please use one or more of the like buttons below

Link to this document
To link directly to this document from your web site or blog, copy the following snippet HTML below and paste it onto your site.
Section 13 Notice