Inventory Checklist
| | |
| --- | --- |
| | |
| | | | |
| --- | --- | --- | --- |
| | Drafted by a professional | | Written in plain English |
| | Available for instant download | | Available in multiple formats |
| | Customisable documents | | Saves both time & money |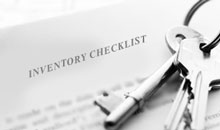 Use this inventory form to list your properties contents and their condition before your tenant moves into your property. The inventory should be signed by landlord and tenant and can be used should a dispute arise about the contents and their condition. The inventory can also be used when the tenant is checking out of your property should there be a question about the deposit, also as a check during the periodic inspection.

The property inventory checklist should also be used if the property is unfurnished as undoubtedly there will be items to list such as doors, smoke alarms, carpet etc. You can also include photographs of the condition of items in the property and add these to the file, photographs should be printed and signed by landlord and tenant.

The Inventory Checklist is available to download instantly in the following formats:

Microsoft Word document


Rich Text Format (Text File)


*** Package Savings ***

This document can be found in the following package(s) designed to save you money
-
Complete Landlord Saver Pack
comprises of 13 documents worth £53.87, saving you £33.88
£19.99
If you liked this document please use one or more of the like buttons below

Link to this document
To link directly to this document from your web site or blog, copy the following snippet HTML below and paste it onto your site.
Inventory Checklist